PRPL Renewal Plan - All the facts and details - Director, Eugenia Schatoff
---
PRPL Renewal Videos - Meeting Spaces • Building Safety • Floor Plans
---
PRPL Renewal Videos - The Learning Lab • Children's Department • Parking
---
PRPL Renewal Videos - Plan Overview in Brief
---
Library Renewal Project Brochure
---
Expanded FAQ (Including Floor Plans)
Updated Oct. 9, 2020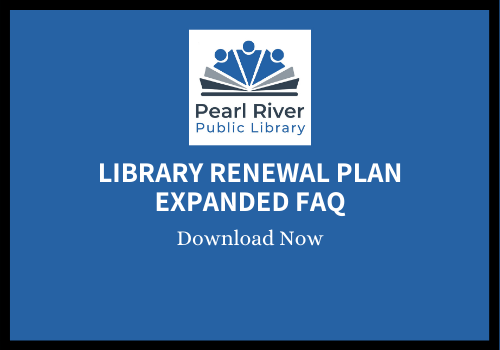 ---
Info on Our Failing Infrastructure
Click below to download the infographic
---
---
FAQ
What is the Library Renewal Project?
The Library Renewal Project is an initiative to revitalize the Pearl River Public Library building located at 80 Franklin Avenue. We believe that now is the right time to be proactive with making sure our building is up-to-date and up-to-code, and have a plan in place to phase in new mechanical equipment and structural upgrades that will establish a library that the community deserves, rather than the more costly solution of attempting to repair and renovate the failing existing structure. To accomplish this, we must plan for Capital projects in the long run.
Why does this renovation have to happen now?
The building is facing mechanical and structural issues that will only continue to worsen. The cooling unit has permanently failed, requiring us to rent a mobile AC unit to cool the facility during the hot summer months. This is not financially sustainable for the long term, so a permanent replacement for our broken cooling system is needed. Without it, the building will be too hot, and we would most likely have to be closed for most of the summer.
On top of that, the roof and heating systems are also in a critical state, and need to be replaced.
We also need to address the fact that the building is not ADA compliant. To bring it up to code, we will need to completely renovate the restrooms as well as the shelves, none of which are accessible for patrons with disabilities.
But why does the library need such an extensive renovation?
The building actually hasn't had a renovation since 1991. That's a long time, and a lot has changed technologically. The electrical infrastructure is severely outdated. In order to stay current and relevant to meet 21st Century demands, we need to update the facility.
There are also several safety factors to consider. Our public bathrooms are not fully ADA compliant (Americans with Disabilities Act), and we do not have a sprinkler system or other fire safety system in case of fire making the building unsafe.
We're also responding to feedback from our patrons, who have told us that the library is lacking certain features, such as parking and meeting space. In order to meet the needs of the community, the library building must be renovated.
What are you doing to fix these issues?
We have been in the process of creating a Facility Master Plan to identify areas of the library building that need improvement. As you may recall, we began this process 24 months ago as a result of catastrophic mechanical failure in the building. We retained the services of architecture firm Butler, Rowland, Mays to perform a full building study to evaluate every aspect of the facility, from the infrastructure to floor layout and more.
We also solicited feedback from you, our patrons, in the form of surveys, dot board exercises, focus groups, and town hall meetings. Your responses helped us to further identify areas where we can improve, for example more parking, a lack of quiet spaces, and lack of space in the children's room for collections and programming
With all these data points, the architects have been hard at work creating a design plan for an upgraded library that can handle serving a 21st Century community.
---